Introduction
By: Sunstar & Thunderscream
Aside from Optimus Prime, perhaps there is no more iconic character in Transformers history than Starscream. A member of the "Big Three" in the franchise, he is perhaps one of the most infamous member of the Decepticons, even more so than his commander. He has appeared in all but a select few Transformers series, usually as Megatron's second-in-command. Though his personality has changed over the years, the image most fans have of the characters is that of a scheming, arrogant, treacherous character with a harsh, rasping voice, always looking to usurp Megatron's position as the leader of the Decepticons.
Starscream's popularity has always been an enigma, even to fans familiar to the Transformers; he has a particularly large following among women fans.
As a tribute to his popularity, in June 2006, Starscream was named one of Wizard's Top 100 Villains, placing 46th overall, outperforming even Megatron in that regard. In the end, Starscream is a character that people simply love, hate, or love to hate, and there is no arguing that he has had a prolific and indelible history in Transformers and will continue to do so for the near future.
1980 Takara: Diaclone "Starscream"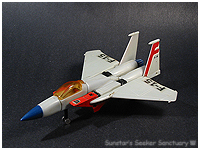 As with all Transformers, Starscream's origins are rooted in the Diaclone series, produced by the Japanese company Takara. This version differs little from the toy that would eventually be released in 1984. The only real difference is that the toy came with a pilot figure who was apparently responsible for the character's movement, as the Diaclone figures were simply vehicles for their human counterparts, lacking any free will and intelligence of their own.
The transformer in the image is currently incomplete
1984-1986 Hasbro: Generation One Starscream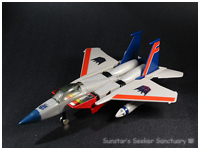 In 1984, Hasbro USA licensed the Diaclone line from Takara and renamed the series "Transformers", giving the characters distinct personalities and introducing many of the concepts that remain canon today. Starscream was one of the characters who made the change, receiving blue vertical tail fins and losing his pilot in the process.
By today's standards, the Starscream toy had very little articulation; it was largely limited to his arms at the shoulder. Most of the other parts were involved in transforming the character into his famous alternate form, an F-15 Eagle. At the time, a toy that could transform from robot to jet and back was novel in and of itself, so there really wasn't much need invest in the superb articulation of later figures. The mould itself would be reused for other figures: it was repainted to create the characters Thundercracker and Skywarp and later remoulded as Thrust, Dirge, and Ramjet.
It was during this era that Starscream received the personality that he is most famous for: a scheming, intelligent, arrogant, free-thinking character who plotted to usurp Megatron and lead the Decepticons to victory over the Autobots. Below is the entry from his Marvel Universe bio:
Motto: "Conquest is made of the ashes of one's enemies"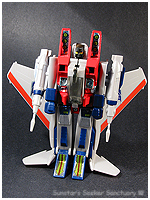 Profile:Starscream makes no secret of his ambition to overthrow Megatron as Decepticon Leader. He is ruthless, cold-blooded and cruel. In that sense the two rivals are very much alike. But he has a vain side that clearly distinguishes him. He considers himself the most sophisticated and handsome of the Decepticons. He exudes a high-class, urbane air that provides a certain irony to his murderous tendencies. He looks down at Megatron for being antiquated in his military strategy. Starscream believes the Decepticons should rely more on guile and speed rather than brute, destructive force to defeat the Autobots. Megatron overlooks the potential threat Starscream represents for one very good reason: Starscream is very good at his job.
Abilities: Starscream is one of the fastest flyers of the Decepticons, reaching speeds up to Mach 2.8. He can climb to sub-orbital altitudes of 52 miles and nose-dive down to near ground level in mere minutes. This makes him particularly effective in surprise attacks and hit-and-run actions. He can shoot cluster bombs a distance of 40 miles, each of which can level an area 10,000 feet square. His null-ray rifle can interrupt the flow of electricity in any circuitry it hits for periods of up to two minutes, effectively preventing the operation of many machines dependent on those circuits during that period.
Weakness:Starscream overrates himself sometimes, and finds himself in situations that are more than he can handle. His nose-dives often overload his gyro-circuitry leaving him disoriented briefly. But, overall, he is a very tough nut to crack.
Starscream would star in the Transformers cartoon series, which ran from 1984 to 1986. In the series, he was depicted as the rather obnoxious, yet somehow loveable, second in command of the Decepticons. He remained rather true to his profile, always scheming in some way to overthrow Megatron and take command of the Decepticons. He featured prominently in several first and second season episodes, only to die spectacularly in Transformers: the Movie thanks to a reformatted Megatron, now calling himself Galvatron. Yet even death could not curb the ambitions and hatred of this popular character. He would appear later in the third season episodes "Ghost in the Machine" and "Starscream's Ghost" as a spectre, seeking to reclaim the life and command Galvatron took from him.
"Generation One" is not an official Hasbro term for the original series; rather, it is moniker created by fans after the release of the Generation Two line.
Other Incarnations
1986 Hasbro: Decoy Starscream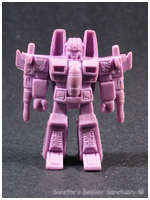 Featured in a very short comic strip that served mainly as an advertisement, the Decoy Transformers are considered one of the silliest concepts to emerge in the franchise. According to the comic, the Autobots created the Decoys to use as means to distract the Decepticons long enough to reclaim the Matrix of Creation. Humiliated, the Decepticons developed their own Decoys.
The Decoys were part of a game called "Scramble City" that was released a year earlier in Japan. In the game, one chose a side to play and attempted to defeat the other side through an as yet unknown means (the rules are currently unavailable). A handful of figures were included with the game, but players could expand their sets with figures that were sold separately.
Number 35 out of a total of 52 figures, Decoy Starscream was made of a soft rubber and coloured purple, though a rare red variant exists. One of three identical looking toys, Starscream could be distinguished from Thundercracker (#33) and Skywarp (#34) by the positioning of the arms; Starscream's has both at his sides.
1989 Hasbro: Pretender Starscream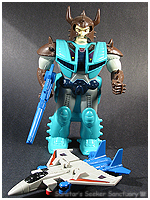 Motto: "Conquest is made of the ashes of one's enemies"
Released in 1989 and closely associated with the Marvel Comic being circulated at the time, Starscream was one of only two Decepticons that took a human form for his Pretender form; the rest had monster-like shells. The shell itself was made of a light teal-coloured plastic painted with white and blue and came with a tight fitting, brown helmet and big blue gun. The Pretender Shell splits into two halves, revealing the robot in within. The Shell has virtually no articulation; the arms move up and down, but that's all.
Starscream the jet had a very simplified transformation. His legs moved apart slightly, the canopy and nose folded down to reveal the head, and his wings either rotated or popped off completely. The tail fins became his weapon in robot mode.
Around the same time, K-Mart would release the jet figure as part of their exclusive "Decepticon Legends" line.
1990 Hasbro: Action Master Starscream
In 1990, the Transformers line was in decline and Hasbro was trying every gimmick they could think of to breathe new life into it. One of these was the Action Masters, which, according to the Marvel Comics series, was the result of exposure to a super fuel called Nucleon, which gave anyone exposed to it tremendous power at the expense of their transformation. The toys themselves were unable to transform however the trade-off was a higher degree of articulation. Though considered a collector's item today, the Action Masters were a dismal failure and are sometimes credited for being the death bell for the original Transformers.

Starscream would be given the Action Master treatment and in a note of sad irony, found himself demoted from being the Decepticons' Aerospace Commander to the role of… ground assault. He retained the familiar head and facial characteristics of his original incarnation, while his upper torso still retained classic air intakes (though in vestigial form) canopy chest, and red colour. However, his general coloration was vastly different; his upper arms were coloured blue while his lower arms and hands became black, his helmet was coloured a light grey and his face was painted black. His wings were no longer on his back behind his shoulders, but rather shrunken down and moulded to the sides of his arms. Starscream came with a vehicle called a turbo-jet that could transform into a battle station.

Action Master Starscream's motto would remain the same as his Generation One incarnation:

Motto: "Conquest is made of the ashes of one's enemies"

Profile:Armed with null ray rifle that binds its target in bands of energized steel. Turbo jet armed with wing-mounted missile launchers and twin turbo-fan boosters. Photon blaster on nose fires earth-shattering missile bombs. Converts to air-powered battle chariot, armed with force field and 4-stage rocket launcher.



1993 - 1995 Hasbro: Generation Two Starscream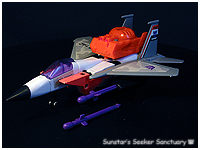 Motto:"I have a code of conduct - victory at all costs!"
Generation Two was Hasbro's first attempt at reviving the transformers franchise. Initially consisting of retooled re-releases of previous figures, G2 would not feature it's own cartoon. Instead, the story would be told in a new comic book release by Marvel, written by Simon Furman, which would last just twelve issues before it was "axed".
Starscream was one of the figures brought back for the new series, and though his basic mould remained unchanged, there were a few changes made to the figure. First was his colour; his red became a salmon pink, the metallic grey to solid white, his blue accents were coloured grey, and his cockpit was changed to lavender-purple. In order to conform him to the more up-to-date toy safety protocols; his missile launchers were redesigned and projectiles made considerably longer.
Generation 2 Starscream possessed an interesting new gimmick. Packaged with the figure was a large, orange sound box that attached to a set of pegs that were moulded into the back of his jet form. Pressing a button on this box would activate a few jet-like sounds.
The transformer in the image is currently incomplete
1996-1999 Hasbro: Beast Wars
Though several familiar names would surface throughout the course of this series' run, no toy with the name Starscream would ever be produced. It seemed unlikely to appear at all; according to the editors for the TV series, Bob Forward and Larry DiTillo, Beast Wars was originally intended to be a separate continuity. But as the writers became more familiar with the original material and began making connections to the original series, it seemed only a matter of time before the most infamous character in the franchise would at least be mentioned. Though the first mention of a G1 character went to Shrapnel in "Dark Designs", the writers did one better with Starscream: they gave him his own episode.
In many ways, the first season episode "Possession" is a pivotal course in the Transformers franchise as it irrevocably ties Beast Wars with its predecessor. In many ways, it's rather fitting that Starscream appears to, in essence, "pass the baton" to this series. Re-imagined as a disembodied spark, Starscream somehow manages to transcend the boundaries of space and time to appear on the planet on which the Beast Wars rage. Taking possession of the Predacon Waspinator during an energon storm, he pledges his loyalties to this age's Megatron and offers his assistance to defeat the Maximals. He and Megatron devise a plan to drive their enemy from their base, which works quite well. However, Starscream's treachery is well known, and as always, he has his own agenda…
The Starscream of "Possession" is depicted very close to the personality one would expect from him; a smooth-talking, arrogant, scheming, treacherous character acting with his own agenda in mind. This personality was often the character's downfall in the original series, as it is here, quite fittingly. As one would expect, his lies are quickly exposed, most notably with Blackarachnia, though Megatron hints that he may know more than even Starscream suspects. Interestingly, the original plot had a character being possessed with the memory engrams of an Autobot; the concept was changed when it was decided that a villain would a better choice; Starscream was the natural option. Also of note: Waspinator's Predacon insignias become Decepticon ones when he is possessed by Starscream. Sadly, the original voice actor, Chris Latta, died two years before the series premiered, so the character was voiced by series regular Doug Parker.
Starscream would be mentioned in the second season episode "Bad Spark", in which it revealed that he possesses a "mutant, indestructible spark", further departing from his ghostly appearances in the original series. Primal explains that "Protoform X", later renamed Rampage, was an experiment to replicate this attribute, with disastrous results. In many ways, this episode provides an explanation as to why the Maximal Elders sealed Starscream's records, as mentioned in "Possession."
Starscream makes his last Beast Wars appearance in the episode "The Agenda, Part 3". Having gained access to the legendary Ark, Megatron slowly makes his way through the "hallowed halls", passing several legendary figures along the way. Though most are too vague to accurately identify, three are very clearly seen: Starscream, Soundwave, and Optimus Prime. Starscream can be seen sitting against a wall as Megatron passes, and gets the only close-up before Optimus, his darkened optics reflecting the Predacon leader as he passed by.
No toy was produced
1997 Hasbro: Machine Wars Starscream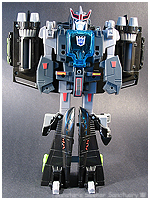 In 1997, as Beast Wars' popularity continued to grow, Hasbro quietly released a small, vehicular-themed series called Machine Wars. Available only at Kay-Bee stores, this line would have no accompanying cartoon or comic series. It did not last past the year's end; only twelve figures were ever released and the series has since faded into relative obscurity.
Machine Wars Starscream is a repaint and slight retooling of an earlier toy called "Skyquake", previously only available in overseas markets. As a result, this figure bears very little resemblance to any previous incarnation; the only similarities are that his alternate form is a jet and certain features of his head. He's fairly large, about the size of the average Ultra-class figure of the era. He's coloured primarily black with some blue, mostly concentrated around the cockpit and vents on his back. He came with no hand-held weapons but had an abundance of bilious green-coloured missiles that could be attached to the undersides of his wings, along his sides, and inside his bomb bay. For a toy of his girth, his transformation is rather simplistic and he has virtually no articulation; his arms can swivel at the shoulder, but that's about it.
Motto: "Conquest is made of the ashes of one's enemies."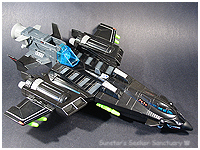 Profile: Starscream is ruthless, cold-blooded, and cruel, yet considers himself the smartest, most sophisticated Decepticon of all. He believes Decepticons should rely more on guile and speed rather than brute force to defeat the Autobots. He's a powerful air commander who can reach speeds of mach 2.8 at an altitude of 52 miles, even while flying heavily armed with his heat seeking, air-to-air missiles.
Interestingly, while Machine Wars Starscream's tech spec bio is virtually identical to that of his G1 counterpart, there is one basic difference. The original profile had been written with the line "He considers himself the most sophisticated and handsome of the Decepticons." The word "handsome" has been excluded from the Machine Wars bio; apparently, this Starscream didn't think he was physically appealing.
1997 Takara: Beast Wars the Second Starscream and Hellscream
Beast Wars proved as popular in Japan as it was in the rest of the world, so to capitalise, Takara developed a new series, Beast Wars the Second, more commonly referred to as Beast Wars II. While two new moulds were developed for the overall commanders of each side, most of the other characters were repaints, remould, or simply reissues of previously released characters. This line would feature a totally new Starscream, if not in a new meld.
Beast Wars II Starscream was the re-release of the Generation Two figure Smokescreen and was commonly packaged with the figure BB. His alt mode was that of a jet with a strong resemblance to the F/A-22 Raptor and his main colours were purple and black with yellow missiles. He could combine with BB to form a "superjet" of sorts. His personality was somewhat similar to that of G1 Starscream, though the two were never intended to be the same character.
In the animated series, Starscream was considered one of the more "sophisticated" of the Destrons. He would often pump himself up for battle by listening to Wagner (a possible precursor to RiD Sky Byte's interest in poetry) and was often partnered with the brutish BB. In many ways, Starscream and BB's relationship is remarkably similar to that of the later characters Ransack and Crumplezone in Cybertron. Starscream would often scheme to take over leadership from Galvatron and Megastorm (later Gigastorm), though his plans would eventually backfire on him.
In episode 33 of the series, Starscream would be exposed to an energy source known as Angolmois energy when Gigastorm threw him into a lava pit riddled with the energy. The energy reacted with his cruel and hateful personality and he evolved into a monsterous cybernetic shark, re-emerging more cruel and ruthless than before, as well as a new persona: Hellscream.
Hellscream was retool of the Beast Wars figure Cybershark and bears the appearance of a hellish cross between a shark and submarine. The head became a threathening blade, the tail fin a large tubine, the dorsal fin a sub's sail, and the pectoral fins wicked looking spears. Hellscream was colored a blue-gray, dark green, silver and bits of red, with yellow thrown in for the eyes. Black was also used for the hand, lower legs, shoulders, and missiles. His personality differed little from Starscream; it was now just more pronounced.
BWII Starscream
Profile: Small of body but great of pride, Starscream is the hulking BB's superior officer. A robot of unparalleled ambition, more even than Galvatron's, he dreams of becoming leader himself. His special abilities are the Formation Scream (a combining/separating assault from machine mode) and his two Screamwinder missiles. He enjoys Wagner, and has even psyched himself up [listening to] the composer's pieces when starting an attack.
No image currently available
Hellscream
Profile: This is Starscream's evolved form, created when he was dropped into the Angolmois energy by Gigastorm. His hatred reacted with the evil Angolmois energy. Now he is even more cruel and savage than before, attacking his opponents colourfully with such weapons as his Sharkwinders and Terrorstorm. In fact, he is biding his time for a chance to force Gigastorm from power.
No image currently available
1999-2000 Hasbro: Beast Machines
No Starscream figure was ever produced for Beast Machines, nor did he make any appearances in the cartoon series.
2001-2002 Hasbro: Robots in Disguise
No Starscream figure was ever produced for Robots in Disguise, nor did he make any appearances in the cartoon series.
2001 Hasbro: Transtech
Transtech was envisioned as the "prequel" to Beast Wars and Beast Machines and featured several familiar characters in new forms. One of the characters slated to "return" was Starscream, and concept art did surface for the figure. Unfortunately, the failure of Beast Machines to live up to the success of its predecessor meant that Transtech never made it past the design stage and was ultimately cancelled.
No toys were produced aside of a couple prototypes.
2001 E-Hobby: Black and Ghost Starscream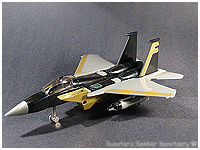 The return of Transformers into the popular mainstream, thanks to series like Beast Wars and the Robots in Disguise toy line, meant that the original moulds from Generation One were finding their way back to the shelves, first in Japan. Starscream would be one of these re-released figures, appearing at this time in two different variants: one coloured black and the other transparent. Both were available only through the online store E-Hobby.
Black Starscream features the character in a primarily ash-black colour with his wings, tail fins, and nose cone in a silvery graphite grey. His robot torso and stripes were painted in gold and his canopy moulded in a clear, transparent plastic. It is still unclear as to the purpose behind his coloration. One theory is that it represents a "dead" character, though it is a mystery why a dead character would need an alt mode. Another theory involves the Black Robot Masters Starscream, in which his colour is born from an energy source called "Solitarium."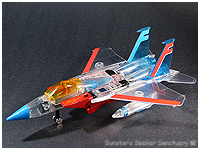 Ghost Starscream is made from a transparent blue plastic with a clear amber coloured cockpit canopy. The die-cast parts are a metallic pinkish-red, while his face and head are black. Ghost Starscream's missiles and weaponry retain their pristine, G1 length and design, as Japanese toy standards are not as stringent as those found in North America.
2001-2004 Hasbro: Heroes of Cybertron Starscream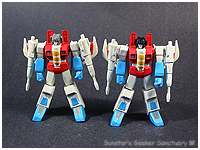 Originally released as the Act Series by Takara in Japan, the Heroes of Cybertron (HOC) series was a short-lived line from Hasbro that featured several classic characters in new, smaller moulds. While these figures could not transform, they did feature the ability to swap parts between characters, making for some interesting configurations and play options.
Starscream was initially released in Act 1 of Takara's original series, moulded in coloured plastics. For his initial North American release (NAR), he was moulded in transparent red PVC plastic, which was then painted over with his classic colours, aside from a light grey head. There was still enough transparent red exposed on his head so that when he was held up to a light source, it appeared that his optics were "glowing." Interestingly, by switching Starscream's head with Optimus Prime's body, it was possible to "re-enact" the scene from the animated series two-part episode "Megatron's Master Plan."
Motto: "Conquest is made of the ashes of one's enemies."
Profile: Starscream seeks to replace Megatron as leader of the Decepticons. Ruthless, cold blooded, and power-hungry. Considers himself the most sophisticated and handsome of the Decepticons and, therefore, a better choice as leader. Believes that guile and speed, not brute force, will defeat the Autobots. Fastest flier in the group, reaching Mach 2.8 and an altitude of 52 miles. Shoots cluster bombs and Null-rays that disrupt the flow of electricity. Very good at what he does, but over rates himself which can jeopardise missions.
HOC Starscream was later released as part of a Botcon 2003 six pack of HOC Seekers, alongside wingmates Skywarp, Thundercracker and three purple coloured generic characters. This version differed from the general release in that the figure had a more metallic colour scheme and had a black-coloured head.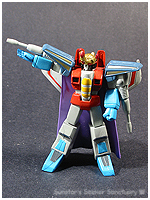 Starscream would be re-released in the fourth wave of the series, this time bearing his coronation crown, shoulder pads, and cape from the animated Transformers: The Movie. He was also posed in the same position as the scene where he states, "My fellow Decepticons, as your new leader I…" right before the arrival of Galvatron and Cyclonus. He was coloured in a darker shade of grey than his previous release, and the insignia's on his wings have now been positioned right side up.
Motto: "Conquest is made of the ashes of one's enemies."
Profile: Starscream seeks to replace Megatron as leader of the Decepticons. Ruthless, cold-blooded, he considers himself the most sophisticated and handsome of all the Decepticon robots. Able to reach Mach 2.8 and an altitude of 52 miles. Shoots cluster bombs and Null-rays that can disrupt the flow of electricity. Excellent at what he does, but sometimes overrates himself.
This particular sculpt would later be recovered into Skywarp, Thundercracker, and a few clone Seekers. It would be recovered again for the 2004 Botcon exclusive figure Sunstorm, then retooled slightly to become Dirge, Ramjet, and Thrust; the latter pair being available only through Takara's Act series. Takara would also release a pewter coloured Seeker character and an ultra rare transparent Starscream figure.
2002 Hasbro/Takara: Armada Starscream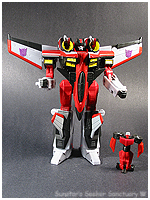 In 2002, fresh of the commercial success of Robots in Disguise, Hasbro and Takara collaborated on a brand new series: Transformers Armada. Called "Micron Legend" in Japan, the new line would feature the return of several classic names of Transformers lore, if sometimes in dubious forms. Featuring a brand new animated series, Armada would also mark the return of the Transformers to the comic world, thanks to a company called Dreamwave and veteran writer Simon Furman. It also marked the return of the name Starscream to the "flagship" release - and what a return.
Aside from being a jet, Armada Starscream bears several strong similarities to his G1 predecessor. The head and face were sculpted to replicate the familiar features associated with the character; his mouth had even been etched into a confident smirk. When transformed into robot mode, his wings were placed in an upturned position, his canopy folded over his chest, and the intakes were located on either side of his head. Due to the nature of his one of his gimmicks however these intakes extended behind him quite a bit. His paint scheme was a little different as well; his main colours were red, black, and grey with yellow inside his intakes and on his chest.
Compared to his G1 counterpart, Armada Starscream had a high degree of articulation. His arms could move at the elbow joints and shoulders while his legs could bend and turn at the knees and swing from the hips. He was no longer limited to standing at attention or reaching out for a hug, but could be displayed into any variety of poses, depending on an individual's whims.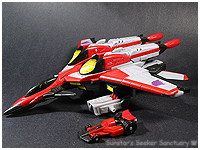 Armada Starscream featured a whole host of fun new gimmicks. For starters, pushing down on his canopy would activate the sound of laser fire. This feature could actually be activated by the slightest touch, unnerving unsuspecting individuals struggling to get him out of his packaging (and undoubtedly annoying a few peace craving parents). Pulling back on the peg between the two thrusters on his back would activate a brief, jet-like noise; holding it a couple seconds would extend the duration, as if Starscream were flying at top speed. His left wing could be detached (ouch) and unfolded to form a handheld sword, an interesting gimmick that would perhaps be alarming to any real self-serving Seeker.
Like other Armada figures of his size, Starscream came with a small Mini-Con figure, a red, black and grey Formula 1 racecar named Swindle. Swindle was key to activating several additional gimmicks on Starscream. By attaching him to a port under the cockpit, he changed the sound activated by depressing the canopy from gunfire to something similar to a bomb dropping from its racks; push hard enough, and Swindle would be "launched" from his little haven. When Swindle was connected to the peg on Starscream's back, the thrusters would swing forward and become cannons, revealing the triggers to fire the missiles. Pressing back on the peg while the Mini-Con was still fastened and a noise like rapid cannon fire would be activated. Swindle could also be attached to a peg located on each of Starscream's forearms, where he could also serve as a short, blade-like weapon.
Motto: "My destiny is leadership."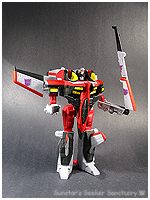 Profile: Starscream uses his speed and manoeuvrability as a jet to launch aerial attacks on the Autobots. No one can compete with him when it comes to speed and skill in the air. He slices through the sky, chasing the enemy and even endangering any Decepticon that gets in his way. As the second in command, he pretends to be loyal to Megatron, but is always looking for an opportunity to weaken his leader's rule and take control of the Decepticons.
The above profile stands in stark contrast to Starscream's depiction in the Armada cartoon. In the series he was portrayed as a rather principled Decepticon who sought not his commander's position but rather his respect and acceptance; this personality most closely resembled that of Armada Thundercracker. He defected to the Autobots for a time when he became fed up with Megatron's abuse and befriended the human children, most notably Alexis. He would eventually pay the ultimate price by heroically sacrificing himself in an effort to unite the Autobots and Decepticons against a common enemy: Unicron. Like Optimus Prime, Starscream's death and subsequent rebirth would become "trendy" as the so-called "Unicron Trilogy" progressed.
Armada Starscream's sculpt would later be repainted for another character, Thundercracker, whose primarily blue colour scheme would serve as Starscream's "powered up" form in the animated series. The mould would then later be retooled and repainted for the character Sky Warp; which would then be repainted as Ramjet in the Universe line.
"Seeker" was a fan made term of uncertain origins. It was used for the first time in canon in the Dreamwave War Within comics.
2002 Hasbro: McDonalds' Happy Meal Armada Starscream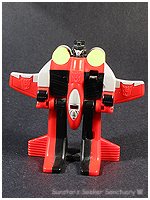 In 1997, as Beast Wars was entering its "TransMetal" phase, the food franchise McDonalds was licensed to release Transformers figures in their Happy Meal lunches. In 2002, Armada made the leap into this market and Starscream was one of the characters that tagged along.
The Armada Starscream created for this series bore the same red, grey, black and yellow colours of his larger cousin, though there were serious differences between the two. The Happy Meal version came with no weapons and had no moving parts other than four wheels and a folding joint. Transformation was extremely simplistic; just fold him over, set him on a flat surface, pull back and let him go. He would roll across the floor a short distance before he flip changed into robot mode. He could combine with other Happy Meal Armada figures to form a strange combiner of sorts, the purpose of which is unknown.
Despite this figure's shortcomings, he is a cute and novel toy that great for a laugh or two, especially when one considers the market he was aimed for.
2003 Hasbro: Commemorative Starscream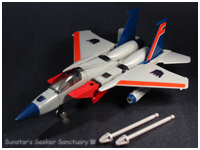 To celebrate the upcoming 20th anniversary of Transformers, Hasbro re-released several G1 figures as an exclusive release in Toys R' Us stores across North America. Though several moulds had been lost to time, a few managed to survive. To the delight of fans everywhere, one of the moulds to survive was Starscream.
The reissue Starscream figure differed only slightly from its original 1984 release in basic form and colour. The only real change was to the weaponry, which had to be retooled to conform with the modern safety standard of three inches. While the longer null ray weapons were not too bad, though a bit chunky and ungainly, it is the author's view that lengthened missiles now appear ugly and unsightly.
2003 Takara: Anime Starscream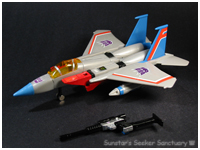 At the same time Hasbro was releasing is Commemorative Series, Takara released a version of the G1 Starscream figure that was closer in colour to his appearance in the original cartoon. His nose cone was coloured sky-blue, vertical tail stabilisers and fists, and cockpit canopy moulded in clear amber plastic with grey stripes. His wings bore a set of stripes and he had an inverted Decepticon insignia painted directly on his body.
This version of Starscream also came with a couple of enticing bonus pieces: a Megatron gun and a dark blue fist from the anime Optimus Prime. The extra fist was included so that Starscream could hold the Megatron gun (either that or Optimus decided to lend Starscream a hand for something). This release also came with the original weapons and missiles and was packaged in a box with artwork depicting him in a rather cheerful and happy looking cartoon style.
2003 Takara: World's Smallest Transformers Starscream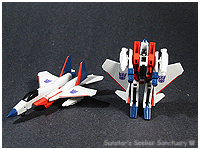 World's Smallest Transformers (WST) was a small, short lived line released almost exclusively in Japan and featured familiar characters in smaller forms of themselves. The series was sold in a manner akin to a shell game, with figures packaged in individually sealed, unmarked boxes, making it nearly impossible to tell what a buyer was getting until he or she opened the box. Fortunately for his fans, Starscream was a relatively common figure.
WST Starscream's appearance in his jet and robot modes was nearly identical to that of his G1 counterpart. The only major difference was scale; from nose to tail his jet mode was only three inches in length. His transformation was also unique - perhaps the best way to describe it is that he "falls apart" during his change.
There were two releases of the figure, one in Wave 1 and another in Wave 2.5, the latter being the last before the line was axed. The second Starscream had a very subtle difference from his earlier counterpart: this figure had a metallic black canopy while the earlier toy bore a simple solid black canopy.
There were at least two re-colours of WST Starscream during the series' run, Skywarp and Thundercracker, which were very rare and thus difficult to find. The figure was also remoulded slightly to become WST Thrust. There have also been a pair of knockoff figures done in transparent plastic bearing the colours of Skywarp and Thundercracker, and as of this writing there have been sightings of knockoffs with transparent, black, and transparent Sunstorm colour schemes.
2003-2005: Transformers: Universe
Universe was a general release toyline that primarily featured repainted figures from previous lines. No Starscream figure was ever produced for this series, however, there were at least two characters released with connections to a Starscream character.
The first Starscream related character released in the line was Ramjet, a repaint of the Armada Sky Warp figure, who himself was a repaint and slight retool of Armada Starscream. Most of the changes made were physical; the canards under the cockpit were replaced with small gun barrels, fans were sculpted into the horizontal tail stabilisers, and the head was completely remoulded. Ramjet also came with a Mini-con jet, a repaint of Sky Warp's Thunderclash. Ramjet's sound effects and gimmicks were the same as the original figure he was based on. For more information on these features, please see the Armada Starscream entry.
In comic series that came with the early Universe figures, Ramjet was one of four generals recruited by Unicron to reignite the war between Cybertron's leading factions. He would play a leading role in the series right up until the line was discontinued.
Another figure released in the Universe line with connections to a Starscream character was Overbyte, the North American release of the Beast Wars II figure Hellscream. Sold as a Target exclusive figure packaged with the Autobot Repugnus, himself a repaint of the Beast Wars Fuzor Buzzclaw, Overbyte bore little change from his Japanese counterpart. A small knob was added to his blade weapon to conform to the tougher safety standards in American markets and there were slight changes to his paint scheme, most notably around his head. For more information on this figure, please see the Beast Wars II entry for Starscream and Hellscream.
2003-2006 Hasbro/Takara: Transformers Alternators
Known as BinalTech in Japan, Alternators was a largely collectors oriented line featuring G1 characters that transformed into familiar brands of cars and trucks. While Alternators figures were constructed primarily of standard grade plastics, BinalTech featured die-cast parts and is generally preferred by some fans over its North American counterpart. The series was originally intended to consist of only Autobot characters, but thanks to high demand from fans, it was later expanded to include Decepticon characters.
While several Decepticon characters have appeared in Alternators - including those who were never automobiles - Starscream has not. Although he is a popular character among fans, perhaps its understandable that he hasn't been included when one considers the series' gimmick and the fickle nature of the franchise's following. While there has been some demand for military-themed Alternators, it's unlikely that such a figure will be made in the foreseeable future. In early 2006, Takara cancelled its BinalTech series and shortly thereafter Hasbro announced that it was putting Alternators on hiatus, at least until after the release of the 2007 movie.
2004 Hard Hero/Hasbro: Starscream Bust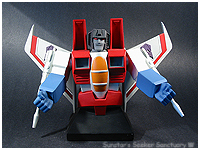 In 2004, the sculpture company Hard Hero was licensed by Hasbro to produce a series of busts depicting several classic Transformers characters. Modestly successful in its short run, the line produced several sculptures of well-known characters like Optimus, Megatron, Grimlock and, naturally, Starscream.
Starscream was the fifth bust released in the series and produced in limited quantities; only 5000 numbered pieces were created, along with 100 artist proofs signed by sculptor Jason Ray. Moulded in cold cast porcelain, he stands about six inches tall and has a wingspan of nine and a half inches. The workmanship on his paint scheme is both clean and accurate to his appearance on the animated series. His torso is painted a matte red, the hands and forearms have been coloured matte blue, the cockpit windows orange, while his wings and other regions have been done in a light silver. Interestingly, the Decepticon insignias on his wings have been sculpted and painted in the inverted position.
Profile: In flight, Starscream can reach a speed of up to Mach 2.8. Ruthless and cruel, Starscream's ambition knows no bounds! His ultimate goal? To overthrow Megatron and replace him as leader of the evil Decepticons!
In one sense, it was a shame that Hard Hero ended the line before either of Starscream's compatriots, Skywarp and Thundercracker, received their own busts. However it is understandable why this particular bust was never simply repainted. After all, the figures pose and the smirking expression are distinctly Starscream in nature and would never do for the prankish Skywarp or brooding Thundercracker.
2004 Hasbro/Takara: Energon Starscream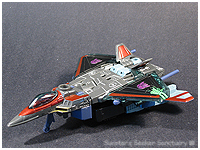 2004 marked the 20th anniversary of the Transformers brand and in many ways the new line of that year, Transformers Energon, paid homage to the original series. Several notable characters would have robot forms and vehicle modes that were astoundingly similar to that of their predecessors. Energon Starscream paid homage to not one, but two of the character's most famous traits.
Energon Starscream bears perhaps the strongest resemblance to the original character, with the notable exception of 2006's Classics figure. His head and face had been sculpted to resemble his predecessor, his cockpit became a part of his chest and torso, his wings were positioned on his back behind his shoulders, and he had a pair of intake-like structures behind and on either side of his head, each bearing the familiar "three dot" pattern that the original possessed on his sticker sheet.
The figure did possess quite a number of differences from the G1 character. Most notable, his alt mode was now a F/A-22 Raptor instead of a F-15 Eagle, a change that mirrored real-world events. He was painted a rather funky combination of dark grey, black, burgundy, and blues in dark and light shades, with silver on his face and forearms. Some of his parts had been moulded in a shade of dark transparent green with battle damage sculpted into his right shoulder and wing, which also had bits of bilious green painted on them, possibly indicating crackling energy. Part of the reason for this was because Starscream had been resurrected after his death in Armada however the process was incomplete, so the character retained a spectre-like ability, a nod to the G1 character's return in the original episodes "Ghost in the Machine" and "Starscream's Ghost" (and possibly the Beast Wars episode "Possession").
Energon Starscream bore a pair of missile launchers, one under each wing, which doubled as shoulder launchers in his robot mode. He also came with a large rifle and a short sword, moulded in transparent green with silver sprayed along the edge of the sword blade. These could be held in his hands, attached to the "dead" Mini-con ports under his wings, fitted into holes on the wing supports (when "deployed") or be combined to form an obscenely huge hand-held sword. His chest bore a Decepticon "spark crystal" on which an energon chip from one of the basic-class figures could be mounted. The eyes and the back of the head were molded from a single piece of transparent green plastic, so that his optics "glowed" when held up to a light source. His landing gear was retractable, though only good for display purposes as the wheels were sculpted into the struts. He had incredible articulation, even more so than his Armada counterpart, though his transformation was a little more complex than other toys of his size. Of particular concern to some was the fact that the vertical stabilisers for the jet were a part of his arms, making transforming him back into his vehicular form difficult at best and cause some to become nervous about breakage.
Energon Starscream would later be repainted into a pattern and colours that more closely echoed his G1 counterpart. The sculpt itself remained basically unchanged, though the clear parts in his head were painted a solid red, effectively eliminating the "glowing" optic gimmick.
Motto: "It is my destiny to lead."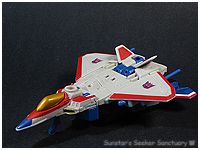 Profile: Starscream has been reborn and is still caught in his own personal battle of choosing the side of good or evil. The high dose of Energon, which brought him back to life, has also given him incredible powers that he is still learning to control. Starscream's new hyper power turns him into pure energy, allowing him to ghost from one location to the other. This phantom ability, combined with Starscream's new power sword, makes him a dangerous adversary to all that oppose him, including Megatron.
Though Energon Starscream bore many similarities to his predecessor in appearance, the same could not be said for his personality. In the cartoon series, he was depicted as little more than a loyal toady, carrying out his orders without complaint or hesitation, first from Alpha Q then from Megatron. According to the series, the process that restored his life did not do the same for his memories. The real explanation was because in Japan, where the series was called "Superlink", Starscream was actually a new character called "Nightscream." How Starscream would have been depicted in the comics will probably be never known; mid-way through their production runs, all of Dreamwave's Transformers series were cancelled in large part because the company filed for bankruptcy in 2005.
2004 - 2005 Takara: Robot Masters Starscream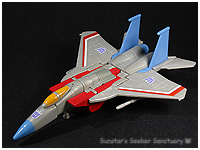 Robot Masters was another brief Japanese exclusive toy line released by Takara. The line featured new sculpts of familiar characters as well as repaints and retools of previous figures packaged with a small comic and a DVD featuring a small CGI cartoon. Starscream was one of the figures released in the first wave.
Robot Masters Starscream not only captured the realism of his jet mode but also bore a very close resemblance to the robot mode of his animated G1 predecessor. His transformation was different and slightly more complex than the original however. His legs could be pulled away from each other and could turn horizontally. He also had joints on his elbows, though he still could not reach out to the sides. His head came out of his nose cone, which folded flatter against his back than was possible on his G1 counterpart. In many ways, he bore a very strong resemblance to his appearance in the Dreamwave comic series. He could not fire any projectiles, but his arm turrets did bear a near accurate likeness to their appearance on the original animated character. He was packaged with a pair of chrome coloured missile launchers that could be attached to his chest.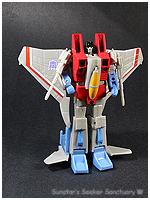 Profile: A genius of guile, capable of reaching speeds up to 950mph in his normal jet mode. Fancies himself as handsome and seeks to take control of the Destron forces. Being a former scientist, he is quite used to handling solitarium.
Interestingly, in the story for Robot Masters, Starscream was subordinate to the Beast Wars Megatron, though he had no intention of staying that way.
This figure would later be released in a primarily black colour scheme used predominately on his torso, forearms, feet, vertical tail stabilisers and wings. A rather handsome looking character, Black Starscream was sold exclusively through the Japanese publication Figure King Magazine and was limited to a total production of 3000 figures. According to the RM story, his new colours were caused by exposure and handling of an element called solitarium, making him considerably more powerful than before. The figure also came with a gold-coloured trident, possibly another effect from the solitarium, perhaps constructed from the element itself.
The mould for RM Starscream was later repainted as Thundercracker and Skywarp who were sold together in a two-pack. Although the series was eventually canned, a few fans still hope that the sculpt will resurface as Sunstorm, or a "ghost" variation, or possibly both.
2005- 2006 Takara: Galaxy Force Starscream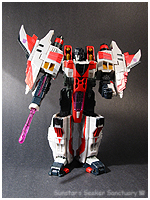 In 2005, Hasbro and Takara would release a new Transformers line, called "Galaxy Force" in Japan but more commonly known as "Cybertron". Though Hasbro originally intended the new series to be a continuation of Armada and Energon, the Japanese animation company in charge of the new series would treat it as a separate continuity. Hasbro, however, would attempt to shoehorn the new series into the old continuity, causing confusion and debate among fans. The differences in how the two series would be seen and treated would extend to the Starscream character.
Galaxy Force Starscream was initially released in Japan and has become a favourite among fans. The basic design for this character, from vehicle to robot, is based largely on Starscream's appearance in the popular, though now defunct, Dreamwave "War Within" comic series. His alternate mode is that of a Cybertronian airship, commonly referred to as a "pyramid jet" by fans. His primary colours are red, grey and dark blue, with intakes on his shoulders and wings attached directly to his arms. He possesses a set of rolling wheels on his undercarriage and can roll quite well on a hard, flat surface. He has excellent articulation thanks to a series of pivoting and ratcheting joints while the head can turn from side to side, allowing him to admire his view a little better. His mouth is sculpted into a hard scowl, a difference from his Armada counterpart's confident smirk.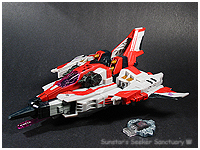 The main gimmick for the Galaxy Force figures was similar to that of Armada, save for the fact that it was now "Force Chips" (called "Cyber Keys" in North America), not Mini-cons, that unlocked the special features. Starscream came with a key molded in clear plastic with silver trim around the edge and a dark purple Decepticon insignia in the centre. Inserting the key into a slot on the figure's back would cause a transparent-purple coloured sword to flick out from each arm. He also came with a hand-held gun that fired a single missile that could cover quite a distance - for a toy. It could fit into a slot under his nose cone in jet mode. His transformation was very neat and tidy, lacking a large amount of excess kibble poking out from various locations.
This version of Starscream would be sold in North American markets exclusively at Toys R' Us stores in a two pack with Vector Prime. This release would feature a darker, reversed colour scheme; so dark that some fans have referred to this version as "Thrustscream". Other than this change, along with a key code printed on the back of his Cyber Key, he remained virtually the same.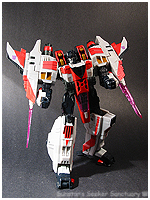 Profile: Breaking out of the mold of a loyal subordinate to Master Megatron, Starscream is an aloof warrior who has his sights on being leader of the Destrons. In addition to firing his special null beam cannons, he uses his Force Chip for the power of evil, unlocking blades from both arms. His attacks with these weapons inflict fatal wounds, inspiring terror among the Cybertrons.
Constantly plotting behind his leader's back, Starscream is using the Decepticon forces left under his command on Earth to further his own ambitions. He desires the power granted by the Planet Key, believing it will finally give him the power to destroy Megatron and the Autobots. With a mighty array of weapons, including his fearsome null-ray cannons, he is second to none in aerial power and skill with an Energon blade.
Galaxy Force Starscream's depiction in the animated series was perhaps the closest to the classic character's personality, though was not as blatant as his G1 counterpart's. He pretended to be loyal to Master Megatron (simply "Megatron" outside Japan), but was, in fact, secretly plotting to take command from him. When the opportunity arose, he trapped the Decepticon commander and several members of his army, defeated every Autobot on his own, and took possession of the Omega Lock and Cyber Planet Keys. He would then proceed to attempt to absorb the power and spark of Primus in order to become the most dominate force in the known universe.
GF Starscream was an incredible character in the original Japanese series. He had a great characterisation, which many fans considered particularly "bad ass". The voice actor gave him a beautiful voice, described as "chocolaty" by one fan, though most outside Japan couldn't understand him without the aid of subtitles.
2005-2006 Hasbro: Supreme Cybertron Starscream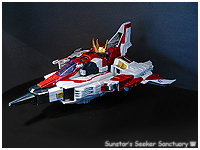 While Takara would release a smaller, "Voyager"-sized version of Starscream for Galaxy Force, Hasbro would produce a much larger version of the character for Cybertron. At fourteen inches in height, this version holds the record for any figure produced of this particular character, with the possible exception of Masterpiece Starscream. Because of his size and a particular feature included with him, this version is often referred to as "King Starscream" by fans.
Supreme Starscream's alternate mode, articulation, coloration, and transformation are virtually identical to his smaller Galaxy Force counterpart. The only noticeable differences seen so far are that parts of his nose fold up and the gun turrets on either side of his cockpit can move up and down (the Galaxy Force version has these turrets, but they're fixed in place). This version also comes with a gold crown similar in design to the one from the original animated movie, which fits upon his head, giving him a rather regal appearance. He also comes with two Cyber Keys, the typical silver Decepticon key and a dark blue, gold trimmed Earth Cyber Planet Key. These keys fit into a slot in the top of his arms; insert one into the left arm and a sword flips out; inserting the other into the slot in his right arm triggers an arm cannon, capable of firing a single missile. He also came with lights and sounds, activated by pressing a small button hidden in the top of his left intake.
For all the strengths of this figure, it does have some blatant weaknesses. Most notable is that his hands have been moulded into the typical clenched fists of smaller figures. This was particularly disappointing to many fans, especially when past figures of this size, from Beast Machines Cheetor to Armada/Energon Unicron, all had articulated fingers. His basic lack of any real detail to differentiate him from his smaller GF counterpart was another disappointment; to many, his larger, bulkier, and blockier design made him appear less articulate than he really was. While the basic consensus is that Supreme Starscream is a wonderful figure, most fans are in agreement that the Hasbro designers could have done a better job.
Supreme Starscream lacks any "Powerlinx hard points" to attach Mini-con figures and Energon weaponry to his person. This is not unusual for Cybertron figures; several characters, such as Scourge, lacked this feature. Besides, with an ego to match his size, does Starscream really need little things stuck to him?
Supreme Starscream would later be released in Japan as a Toys R' Us exclusive, much like his Galaxy Force counterpart in North America. There is currently no information as to what changes, if any, were made to the figure, for this release.
Profile: Unsurpassed in ego or ambition, Starscream is the scheming second-in-command to Megatron. With his mastery of the sword, null-ray cannons that can disrupt the functioning of even the most hardened Autobot and a vast array of secondary weapons, Starscream is second only to Megatron and Optimus Prime in power. His speed is uncanny often giving slower 'bots the impression that he actually teleports around the battlefield. Left stranded on Earth to battle Jetfire - the only Autobot warrior capable of even coming close to Starscream for speed or skill in aerial combat - he plots to seize a Cyber Planet Key for himself in order to gain the power he needs to finally overthrow Megatron and take command of the Decepticon army. Though his prowess is legendary, he lacks the practical intelligence to hide his ambition from his leader and Megatron is more than aware of his plotting.
In the animated series, Starscream's inflated size was due to his absorption of the spark and power of Primus through the interaction with the Omega Lock and the first three Cyber Planet Keys, which allowed him to grow to the size of a large mountain. Using his new-found power and lava from a nearby volcano to forge a crown, he declared himself king of the Decepticons and then proceeded to attack both Megatron's forces and the Autobots. He proved to be a tough opponent for both sides and was only brought down by the combined powers of Wing Saber and Optimus Prime. However, he would continue to cause trouble - still wearing his crown - for all parties, even growing to the size of Primus himself at one point. He dared to take the "Transformers' god" on twice, only to be defeated both times, the last with Primus using Cybertron's moons as giant bolo clubs to pummel Starscream ("MOMMMMMIEEEEE!"). He was believed to been destroyed in a massive explosion after an epic battle with Galvatron on the Giant Planet, his crown the only thing left of him, though the final episode in the series would suggest that Starscream had survived, causing trouble somewhere in the universe.
2005 Hasbro: Legends of Cybertron Starscream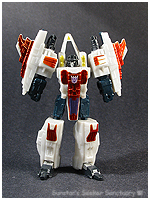 The Legends of Cybertron (LOC) series was a small, Toys R' Us exclusive series featuring transformable characters from virtually every line from G1 to present. Of course, being quite the legend himself, it was only natural that a Starscream character would make an appearance.
LOC Starscream is an extremely small version of his Cybertron incarnation. His transformation and coloration were simple, but surprisingly similar to the larger figures. His small size meant that several features, like the colour on his intakes, had to be left out, but the figure has enough excellent detailing and articulation to more than make up for any minor deficiencies.
As of the time of this writing, LOC Starscream's sculpt had been repainted for the Comic Con exclusive figure Skywarp, the Botcon exclusive Ramjet, and the more generally available Sunstorm.
2006 Hasbro: Titanium Starscream (3 inch)
Starscream's legacy continues with his entry into the Titanium toy line, released in the summer of 2006 and featuring ships and characters from several series. One of the first Transformers figures to be released, this version featured the character in his original, G1 animated robot mode. His legs and body are made from die cast metal with plastic arms and wings, and he was painted in his familiar colours. The Decepticon insignia on his wings have been inverted and are painted blue instead of the typical purple. He holds a grey PVC gun in his left hand and is mounted on a stand sculpted to resemble an exhaust cloud set on a plastic base in the shape of the Decepticon emblem. He could be posed only slightly and could not transform.
Profile: The treacherous second-in-command of the Decepticons and leader of the Decepticon Sky Command, Starscream is a name feared by all who hear it. He plots constantly to usurp Megatron, but is native cowardice and lack of subtlety prevents him from succeeding. Still, his powerful null-ray blasts, which cripple any electrical system they hit, command respect.
The online retailer BigBadToyStore provided a different, nobler bio for Titanium Starscream, which has been included here, if only for its humour value:
"Of all of the Decepticon minions, Megatron never commanded any warrior more loyal and self-sacrificing than Starscream. Time and again, Starscream went that extra mile to demonstrate his nobility and reliability.
"In the movie, after Megatron took his monstrous thrashing at the hands of Optimus Prime, Starscream did everything he could to preserve his former leader, and then took the reigns of leadership in reluctant fashion, knowing all along that he could never replace the one true leader that he admired and respected.
"This 3" version depicts Starscream in his Gen 1 Seeker jet look, battle-ready and thrusting upwards from a sculpted exhaust cloud base. This is Starscream portrayed in his usual heroic light, fighting for the Decepticon cause but nonetheless dictated by a dense core of honour and fearless discipline. Now is your chance to pay proper tribute to one of the greatest heroes of the Transformers struggle."
It's possible that the author of the above profile simply got the G1 character confused with his Armada counterpart, but given the personality of the former, a fan could easily fantasise that G1 Starscream had a hand in writing this.
As of this writing, a repaint of the figure as Thundercracker is planned to be released in the near future.
"Gen 1" and "Seeker" are fan-made terms; Seeker being of unknown origins and not used in canon until the Dreamwave "War Within" comic series.
2006 Hasbro: Attacktix Starscream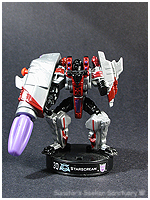 Fans of science fiction have debated the outcomes of fantasy battles between the various series almost since the inception of the genre. Could the starship Enterprise defeat the Battlestar Galactica? Could Superman beat the Incredible Hulk in arm wrestling? Is Unicron more than a match for the Death Star? In 2006, Hasbro released a new game that would allow fans of Star Wars and Transformers to settle their differences once and for all: Attacktix. With Attacktix, players could set up classic rivalries like Vader versus Skywalker or even mix and match universes so that Vader could face off against Megatron.
Starscream is number eight in the series and classified as rare. The Attacktix figure is his Cybertron incarnation, and shares the same coloration as his NAR Voyager-sized counterpart - silver, burgundy, and black with a violet cockpit. His articulation is limited to his arms at the shoulder and his waist, mostly so that his massive weapons arm can be aimed at a target. The projectile that fits into this arm is very large, ungainly, and coloured a bright purple. One should not be fooled by this garish appearance, as Attacktix Starscream can fire his weapon quite a distance away - up to ten feet away! The projectile's shape and distance it can cover are perfect for knocking over an opponent's figure, which seems to be the object of this game.
Finding this figure is a difficult venture, not only because of his classification as "rare" but also because he's only available in booster packs. The booster packs are packaged in such a way that it's impossible to tell what figure is inside until one opens the box, making finding certain characters something of a shell game. It should be noted that the packs are marked so that the buyer can tell if he's getting a Star Wars or Transformers booster.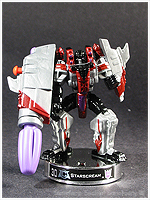 Attacktix, like many other blind-boxed items, features chase figures that can be found randomly inserted into the packages. They are classified as ultra-rare and are thus hard to come by. These figures can be identified by their bases, which are coated with chrome-colored paint. Otherwise, there's little difference between the chase and original figures; they even have the same stats and number, though if an individual can collect all figures, they'd have a premium team in appearance.
Name: Starscream
Number: 8
Cost: 30
Base Size: 4.5cm
Speed: 6
Weapon: Shooter Large Missile
Power: Rally (Decepticon)
Allegiance: Decepticon
Class: Captain

*Author's Note: The writer's knowledge of the Attacktix game and its rules are rather limited at present. If you have any further information about this subject, please e-mail the author with the details. Your assistance is appreciated.
2006 Hasbro: Classics Starscream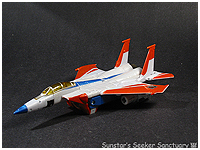 A fresh look at some old friends, Classics was a filler line developed in early 2006 in order to bridge the gap between Cybertron and the 2007 live action movie. The line featured some classic characters in an updated take on their G1 incarnations, including variations of their original alternate forms. Unlike the previous filler line, Robots in Disguise, this line did not feature an animated series. Starscream was included in the first wave of the series' release.
For Classics, Starscream returns to his origins as an F-15 Eagle fighter jet and bears perhaps the closest resemblance to his G1 predecessor than any other incarnation of the character. The feature pattern would perhaps be best described as one best suited for an aircraft in an air show, but he does have the red, grey and blues that have long been associated with the character. His robot mode displays a striking and powerful resemblance to his forerunner in appearance and includes similar coloration on his chest. There are some notable difference, such as the blue around the canopy, red above that, and some red markings on his arms - not all that dissimilar to his Cybertron or War Within incarnations. Classics lived up to its name by reintroducing the heat-sensitive faction stamps; Starscream's is located on his left wing. This is the only means of identifying his allegiance as he has no other insignias moulded or painted on him.
Classics Starscream's transformation is slightly more complex than his G1 counterpart, though nowhere near as intricate as Masterpiece Starscream. He possesses as much articulation as his Robot Masters counterpart thanks to a series of swivel, ball-socket, and pivot joints. His legs can bend at the knees and move around with only the slightest restrictions on movement. The vertical and horizontal tail fins fold up and rotate so that they're flush against his legs, thus avoiding the "big feet" syndrome that plagued his G1 counterpart. He comes with a pair of missile launchers that can be attached to round slots under his wings, in his fists, or on his upper arms. Because of American toy laws, the projectiles for these weapons are overly long and seemingly ungainly; though not all that garish in appearance. They do somewhat replicate to the animated characters' arm rifles in the original series. However, due to their length and position on the upper arm, they do tend to restrict limb movement slightly as they bump into his air intakes or push up against the wings. Despite this flaw, Classics Starscream is definitely a handsome Transformer.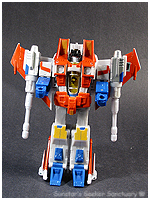 Motto: "My enemies will be left nothing but the ashes of their defeat."
Profile: Ruthless, cold-blooded, and capable, Starscream makes no secret of the fact that he wants to replace Megatron as leader of the Decepticons. The fastest flyer among the Decepticons' ranks and one of the most dangerous warriors to grace the skies of Cybertron, he is still something of a coward. He cares too much for his own skin to ever take the risks the overthrow of Megatron would require.
Classics Starscream would later be repainted and released as Skywarp with Ultra Magnus as part of a Target Store exclusive "Versus Pack". The figure would also be repainted and slightly retooled as Ramjet and there are rumours of a Thundercracker repaint in the works. There is currently no word concerning the release of Sunstorm, Dirge, or Thrust figures.
2006 Takara: MP-03 Starscream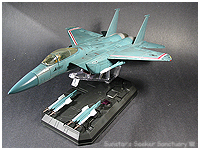 In April of 2006, Takara announced that they would be releasing Starscream in September of that year as part of their popular Masterpiece (MP) Series. Designated MP-03, Starscream would have the honour of being the first Decepticon produced for the series. Designed by artist Shoji Kawamori, this figure would represent a whole new level of detail for the character.
The first images of MP Starscream that were released came in the form of a teaser sketch that was packaged with MP-02 Ultra Magnus*. The drawing featured the character with a crown, two faces, and a few other gimmicks that the designers were considering. A little over a month later, Takara released images of the initial prototype to the online community. These were met with a high level of excitement, as MP Starscream appeared to bear a strong resemblance to his incarnation in the popular Dreamwave comics. His alternate form was remarkably accurate to the real life F-15 Eagle he was based on, though not perfect. The most notable imperfection lay in his new transformation process: instead of folding up from his back and to his sides, as had been the case with the original toy, his arms folded out from the sides, and thus were fairly exposed in vehicle mode.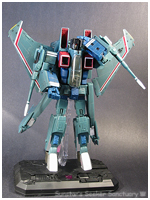 While fans ogled over the initial photos, a second prototype was developed and later made public. A number of changes had been made to the figure, not all of which were well received. The first, and perhaps most shocking to fans, was the placement of the tail stabilisers. The first prototype had these parts on his calves, as the original toy had, though they apparently could be folded up neatly against his leg. On the second, the tail had been moved from his calves to his hips, where they hung like samurai swords or, as some referred to it, parts of a utility belt. Parts were also added to his arms in order to help streamline his vehicle mode to closer resemble the F-15. The location of his rear landing gear also had to be compromised due to the nature of his transformation. Strangely enough, it was Takara and Mr. Kawamori's attempts to create a more realistic looking F-15 that was criticised the Transformers community.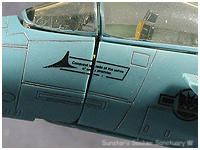 Takara later released images Masterpiece Starscream with their intended paint scheme, and if the new prototype had upset fans, the new colours really infuriated them. Most had expected that Starscream would be painted in G1 accurate colours, as had been the case for Masterpiece Optimus Prime. Instead, the images showed that he would be coloured a shade of dark grey, which under certain light conditions made him appear as either blue or sea green. The shade of red was so light that it appeared pink, there was blue on only half his arms, and his feet had been painted silver instead of blue. While this allowed for a closer resemblance to his intended alternate mode, making him a true "robot in disguise", some fans could not help comparing him to his fellow aerial Decepticon Thundercracker.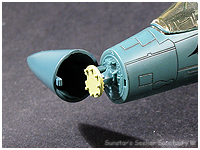 Several questions continued to be raised as the release date neared. Would Takara release the figure in his animated series colours? Would it be exclusive to Japan and thus only available to the general market through importers? Where was his crown; was he even going to get one? Some hoped that a Megatron gun, which he had been shown carrying on several occasions, would be included. Perhaps the biggest concern was whether or not he would contain any diecast parts, as had been the case with MP-01 Prime. The answers came two days before his Sept. 28 release; he would not come with a Megatron gun or a crown. He was going to possess a plastic shell with a diecast inner frame and his coloration would be the one that had been showcased on the second prototype. Despite the disappointments, it became apparent that Masterpiece Starscream was a figure worth the wait.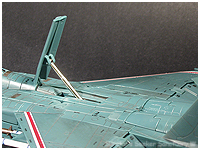 MP-03 Starscream is 13 inches tall by 8¾ inches wide; 3½ tall from ground to the top of his vertical stabiliser in jet form+. He comes packaged with missiles and null rays, which can be swapped out depending on preference. His F-15 mode possesses several realistic gimmicks, including a movable airbrake on his back, engine cover panels that can be lifted to reveal the inner workings, and a nose cone that could be opened to expose the radar system. He also bore a pair of thrust-vectoring nozzles, a trait that is not featured on the actual aircraft. His face could be swapped from a rather unhappy frown to his infamous smug smirk. The ailerons and wing flaps could move and his cockpit canopy could be opened, revealing a single seat. The panels on his chest could also open to reveal missile pods, a trait that was featured on his animated counterpart. Starscream also came with a pilot figure - or, more accurately, passenger - in the form of Dr. Archeville, a character who played a strong role in four episodes of the original Transformers. Archeville has been reputed to be in scale with some of the original G1 Autobots; it's been reported that he can fit in their driver or passenger seats quite comfortably.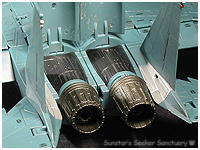 The reason MP Starscream lacked diecast parts becomes obvious upon closer inspection. The joints and connections on the figure fit very tightly together, so much so that's its not clear how he transforms at a mere glance. He has a very complex transformation process, one that required a close look at his instructions in order to perform properly. Had he been constructed with diecast parts, he would have been unnecessarily heavy; with obvious gaps that would spoil the intended illusion, and his paint would quickly chip off after a few transformations.
MP Starscream came packaged with a special plastic display stand, which had small slots to store his missiles when not in use along with a clip on which to attach the Megatron gun from MP-01. The stand post could be positioned in two ways: one to display Starscream's jet mode as if in flight and one to give him the appearance that he is "hovering" in robot mode. The stand is a near-necessity to display him in his robot form; he's so top heavy that standing him up on his own feet usually results in him toppling over. Some fans believed that he might have been able to stand better had his legs been constructed of diecast parts or if his tail parts had been located on his ankles, as it had apparently been originally intended.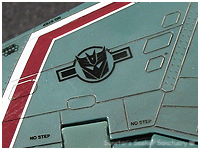 MP Starscream not only possessed incredible sculpted detail, but also had remarkable features that had either been painted or "heat stamped" on him. The leading edges of his wings bore a set of stripes on them, similar to those on his G1 incarnation. His familiar motto, "Conquest is made from the ashes of one's enemies," had been stamped on either side of his fuselage, just under the cockpit. He had a number of "No Step" and "Fuselage Lift" warnings printed on his wings and body, a feature commonly found on a real fighter. Perhaps the most interesting and creative detail found on him concerned the Decepticon insignias, which had been set inside an USAF-style circle-rectangle pattern. He also came with a sticker sheet with additional decals that could be added to his superstructure, if one so wished. The additional decals included his name, which could be added to the plastic base, numbers and letters for his tail, additional stripes to pay further homage to his G1 incarnation, a host of different insignias, and more warning labels.
Strangely, there is a hinge located on Starscream's shoulders, the function of which is unknown at this point. Speculation suggests that this is to attach the shoulder pads for his "coronation outfit," apparently featured on a "Coronation" variant that is rumoured to be in the works. This should be considered conjecture at best; nothing concrete has been stated by the manufacturer as of this writing.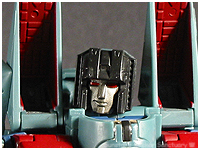 Despite early misgivings, Masterpiece Starscream lives up to his name and could be considered one of the best figures to be produced for the character. As of this writing, there is currently no word if anime-coloured figure will be released or if Takara's partner Hasbro intends to sell the MP-03 sculpt in the general market. There is hope that such will be the case, and some even anticipate that the figure will be repainted as Thundercracker, Skywarp, Sunstorm or all of the above.

* This is speculation by the author. More information on this subject would be appreciated.
+ Any information regarding the scale of this figure would be appreciated.


Reference and Credits



We travel the internet in search of sites that have information that we might use. We have also interrogated people for more information that surrounds the different characters. Our sources and credits are as follows.

Websites:

Wizard's Top 100 Villains - Sorry, no direct link to wizards. Submitted by Thunderscream
Seibertron.com - They have excellent galleries and archives of information to look through and study.
Wikipedia - Online Encyclopaedia with information on nearly anything you want to find.
TFU.INFO - Useful site for gaining information on years and parts of certain toys.
Ben's World of Transformers - Beast Wars 2 information. Submitted by Thunderscream
Ben's World of Transformers - Galaxy Force. Submitted by Thunderscream


Personal Credits:

Thunderscream: Who essentially re-wrote and wrote whole sections of this page. I appreciate the help greatly.
Thunderscream contributed the following sections:
Beast Wars
Beast Wars 2
Beast Machines
Robots In Disguise
Universe
Alternators

Phoenix: For recommending Thunderscream.
Goribus: Information on Action Masters and Pretenders.
Caspar: First edit.
Raymond T: Decoys