Earthdate: November, 30 2007
Subject: Update!

Well, things have arrived and things are yet to come! And there are some other bits of news in the Warhammer front. I shall start with the new first.
In the Seekerverse
Check the new Seekerversecomic strip that I will be running as I get ideas. It's based on the RP universe that has been quietly played for a few years now. Characters that will be in it are mostly fan characters. Phoenix, Pulsar and Polaris are characters used by my best buddy, Phoenix and Quasar, Sunfire and Sunstar, are characters that I use. There will be a lot more, Cannon and non cannon. Of course the three we love, Starscream, Skywarp and Thundercracker will have their parts. These strips are supposed to be a bit of fun, quick and not too serious.
These strips will show up in the right hand side of the page with a link to the most current strip. I will warn you now, these will not be overly frequent. Only when I have an idea and I currently have a few.
In Starscream's Shrine
I will be reorganising the shrine shortly due to the fact there is over a hundred images of His Royal Highness, Starscream of Cybertron. I would not be surprised it is closer to two hundred. About forty of those reside in the Masterpeice Starscream category.
The Question I am asking basically is, what is the best course of action for organising these figures? So hang tight, I will let everyone know when that happens.
Added to Starscream's Shrine is none other than the Wal-Mart exclusive Masterpiece Starscream. He is in his Generation One colours with some weathering on his back. Quite a nice figure. He is more or less identical to the Takara MP-03 figure. He is pretty attractive looking and at about fifty USD, he is a worthwhile addition to a collection.
I hope to be adding a couple busts soon the collection. Busts from Diamond Select. They are the Starscream and the Coronation Starscream busts. They will be arriving when they come in to Big Bad Toy Store.
In the Movie Vault
We have just added the Japanese exclusive figure known as the Fusion Cluster Protoform Starscream. I think it's pretty, and well, it's a bit expensive. I do enjoy this figure as it feels like better quality plastic and less apt pop apart. He is wonderful warm colours which have been seriously lacking in the Decepticon side of things. All the tans, beige, greys and browns gets a bit boring after a while.
So Starscream fans, this is a nice figure although he is very pricey.
In the Warhammer World
I haven't added very many pics recently as I have been fraggin' swamped with work painting for various competitions, playing in a tournament and whatnot. I've lost almost every game I have played in Warhammer this year. I blame the dice. In fact, I have only won one game. However, I have won the Painting Contest.
The prize has nothing to do with my current army, it is good for some interesting bits that I will use for my Orcs and Goblins, if anything torture the Mage and cook the horse. The things I am most interested in with this set is the model bases, terrain bits, Mage magic floating rocks and smoke whisp thing. Great for my gobbo shamans. There are rocks, swords, books and baubles. Of course there are plenty of heads which will look wonderful attached to bases looking particularly severed.
Yes, this will be my revenge for getting my aft magicked to death against High Elves...that....was beyond humiliating.
I wrote this a while ago, so I would like to amend the fate of that one mage on foot. The horse now, that's a different story.
Caspar plays Woodelves. He wants me to finish my army and continue working on his. He plays, he doesn't paint. I took the High Elf mage and painted it up to fit in with his army and it turned out better than well. I love it. My goblins still think they stink funny. I entered that in the contest following the Manticore one. HAH, I win this contest with the prize of the last one. I did not win the follow up game, but that's quite okay.
And the latest fad at the local store is "Turn Counters". What these are is a base, typically a large monster base or other round thing of that size, with six numbers on it and a swivelling central figure. The figure is the pointer, so something with a sword, or a spear pointing out is great. Each turn pair the figure is turned and it's an easy way to keep track of turns. Normally we use dice which often get picked up and played with then... DOH! What turn is this?
I am making myself a base with Mushrooms on it and a tree stump in the middle which swivels. I am also making one for a High Elf player as a thank-you gift for giving me a bunch of Black Orcs and Wurrzag.
Currently I am painting up another group of Black Orcs. Some very old school figures and I am going all out and giving the things checker-board painted axes. I need a minimum of five for the contest, I will be aiming for ten.
So that is all for now,
- Sunstar
Earthdate: November, 06 2007
Subject: Sunstar's Birthday.

All my presents were received before my birthday, but I have something I do wish to say in regards to the current Canadian dollar and Canadian shoppers.
For those who are buying stuff in the USA and having it shipped over, there is apparently a noticeable backlog with customs and sorting stations. If it took a week to get to you, hang tight, it may take a little longer.
This is due to the Canadian retailers have yet to balance out their prices to reflect this. Granted, these prices were set months ago, but it is causing consumers to feel ripped off. If you happen to come across something that has both Canadian and USA prices you will see the US is paying far less than the Canadians.
I rarely get into stuff like this, but all I wanted to say was, if you are waiting for a package from the USA, hang tight, it'll arrive sometime very soon.
- Sunstar
Earthdate: November, 02 2007
Subject: Now, we've got something to share.

For starters, I will announce that Yesterday November1st was my 10th wedding anniversary. Yes, Caspar has been unfortunate enough to be married to this rabid Starscream fan girl. It's been a pretty good day, eating turkey and working on my website and stuff. Yeah, I am truly romantic
I started to write this the other day but my computer was randomly hanging and wiped out all my efforts. As a rule I say slag it and go do something else. But, well, I save it until later. And good stuff we have. We also have some bad news.
Bad news first. Currently treated as a rumour, but those of us who are Canadian, Sunstar IS a Canadian, the Wal-mart Starscream apparently will not be available to us. This really really bites for those who want the figure and can't get it otherwise. This goes back to my general bitterness about exclusives. I just wish that items were available to those who wish to have it. End of rant.
Good news. Heh, these insane exclusives....I will be getting MP Starscream. Someone in the USA has picked him up and will be sending him. I expect him to arrive next week or the following week at the latest.
I am getting some of the pop out playing card figures shortly. I am not sure what the heck they are, but I have Jetfire already when I got my Toyworld Magazine a few months ago. I suppose I should be getting that on line sometime soon.
I declare that November is Skywarp appreciation month. With that said, here is a pic of my current Skywarp collection.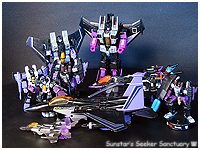 Skywarp Group Shot.
We have some art and section updates.... so we shall continue.
In the Friends of Starscream and the Prisoners of Starscream.
I will combine these two sections with the announcement that I managed to run into a Decepticon Sneak Attack Robot Heroes set. This is a Walmart Exclusive that was released moons ago. The Wal-mart near where I live, had them sort of forgotten on a top shelf.
For the strangely outnumbered Decepticons...in this set, we have Skywarp and Megatron. Skywarp is pretty, but no where near as nice as the generally available Thundercracker. And Megatron who is done is a very nice silver finish. He looks far too happy.
On the Autobot side of the fence, we have Optimus Prime...pointing at something. Cliffjumper who looks like he's going to come up behind you and say... Peek-a-boo and finally Mirage. He is done in a transparent pvc plastic. All in all these members of the sneak attack set are really quite nice. I am finding myself wanting to sneak out and add more members of the TF family to my collection... I know for a fact that I would be dismembered and fed to the bird.
Also, long delayed in getting up, but I posted the Original Robot Heroes Mirage that I got with Starscream long ago.
No other toys so far, so we move on.
In The Thunderscream Files.
We have two new review to share with you. Both of these were written brilliantly by our own Thunderscream. 2007 Botcon Classics Thrust Review and the Movie: Wreckage. I highly recommend these to you if you are looking for an honest review.
In Fan Art.
Oh, we got some now. Two goodies and one of them will be appearing later in the Gallery section as the line art is in hand.
Sunburst - Lines by Alex Milne, was a small convention commission that I bought at Transformerscon. I had asked for a female Seeker drawing.
The other piece is a hallowe'en card for this year titled The Great Pumpkin. This features Sunstorm standing in a pumpkin patch. I photoshopped the slag out of this one. The results are pretty good. So check those out.
In Comic Covers.
Warning! Spoilers may be present.
I won't be able to get those books like I had hoped to until later. But they will come sometime soon. But rather than wait until then, I will post the two that I have.
Megatron Origins Issue #3. That was a good issue and I look forward to #4. Starscream is up to something...
And the first issue of Devestation. Starscream is not dead after all...He is in a fluid filled jar and it is a mega crime to speak his name or to enter the room where he is being held. This should be interesting....very interesting.
I am eagerly awaiting for the Ramjet Spotlight. Just a Seeker Buff. I would love to know more about that guy since he seems like such a dork.
In Warhammer.
I do not post my updates here too often since this is primarily a transformers fan site. I do have some interesting bits and pieces posted. More snotlings, a new fanatic with a flamethrower. I have a giantess(not on site yet) conversion underway and a Manticore that I am hoping to have painted up for the painting contest on the 17th.
So that is it for now, please check back soon for Photos of the Anime coloured MP-03.
- Sunstar